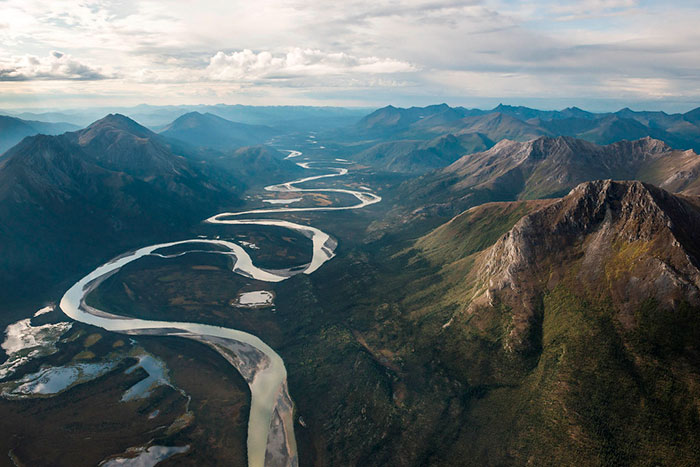 Gates of the Arctic National Park is a haven for travelers who are looking for solitude. Located in northern Alaska, Gates of the Arctic is where photographers, climbers, and explorers alike capture iconic and picturesque scenes. You've probably already seen a picture of Gates of the Arctic in a magazine without even knowing it.
Due to its long history of geological phenomena and connection to Alaskan culture, Gates of the Arctic draws thousands of National Park fans every year, and you could be next! Keep reading to find out how to make your trip to Gates of the Arctic unforgettable.
Facts/History
Gates of the Arctic National Park is nestled in the town of Bettles, Alaska, about 600 miles north of Anchorage. For those brave enough to make this long trip, getting there is only half the adventure. While it's unlike Kobuk Valley National Park, where you have to arrive by air, Arctic's remote location still gives visitors a backcountry experience.
This park's history begins nearly 13,000 years ago. North America's original hunter-gatherers traveled between the northern Alaskan mountains, using the land's resources to stay alive and establish their settlements. You can see the original Nunamiut Inupiat village, Anaktuvuk Pass, inside the park when you visit.
Gates of the Arctic spans over 8.4 million acres and is considered one of the largest parks in the world. Due to its massive size, some parts of the park have yet to be fully explored! This is usually the fascinating part of the story that attracts visitors. So many people want to be the first to discover and fully appreciate this vast park's many secrets. However, this mystery is also why Gates of the Arctic became an official park in the first place.
In the 1980s, U.S. lawmakers felt that it was the Parks Service's responsibility to maintain and care for this natural phenomenon to the best of their ability. At its core, Gates of the Arctic is wild; nature in its truest form. To avoid commercialization, the Parks Service places high value on leaving its natural beauty untouched and protecting it from commercialization so visitors can keep finding isolation and solace for years and years to come.
Around 10,000 nature lovers visit Gates of the Arctic every year; the smart travellers prepare well and do plenty of research on what to expect before arriving. Besides, to fully appreciate the park, you'll need to know the best activities to do based on season, safety precautions, and educate yourself on specific ways that can make as smooth an experience as possible.
What is Arctic National Park Known For?
Gates of the Arctic is popular for its size, but perhaps the most famous element of the park is its namesake.
In the 1930s, Robert Marshall, American forester and founder of the U.S. Wilderness Society, often traveled back and forth between central and northern Alaska. Two mountain peaks, Frigid Crags and Boreal Mountain, were naturally sculpted in a way that resembled a gate: the gate to northern Alaska, and ultimately, the Arctic.
The park is home to hundreds of mountain ranges, ranging in elevation, and six wild rivers. Beyond this park lies thousands and thousands miles of tundra all the way to the Arctic Ocean.
Gates of the Arctic is also the natural habitat for hundreds of Arctic species including the Western Arctic Caribou Herd, grizzly and black bear, wolf, moose, and many more.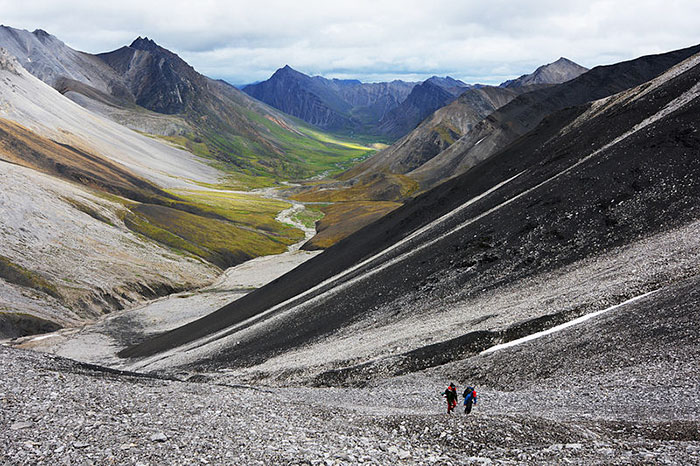 (photo: Paxson Woelber)
What Can You Do at Arctic National Park?
Gates of the Arctic is the perfect place for backpacking, camping, and hiking in their large mountain ranges, and kayaking on one of their six rivers.
Without a doubt, backpacking is the absolute best way to see remote locations and the breathtaking beauty that the general public doesn't usually get to see. Due to the overwhelming size of the park, experienced hikers can trek anywhere from 5-6 miles per day, and this is considered covering a lot of land. The park has no maintained trails or roads, so your backpacking trip will be in the rough backcountry.
On your hike, you'll cross through rivers, thick forests, high grass, and tangled brambles. Local species, however, have created natural trails over the years; these are called "game trails". The Parks Service asks visitors to keep group trips to 10 people or less, and stick to these game trails. Not only will you lower the chances of becoming lost, but it's also for your ease of travel; animals made those paths for a reason!
With a primal experience comes primal resources! Some essentials for your backpacking trip include a topographic map, a compass, and a GPS as a back-up; a satellite signal isn't always guaranteed.
Climbers will find great spots on various rock faces and mountain ridges; make sure that either you or your travel partner are experienced climbers, and come prepared with your equipment. This rule also applies to kayakers; bring your own gear for any activity that requires special materials, and make sure you're with someone experienced with rapids.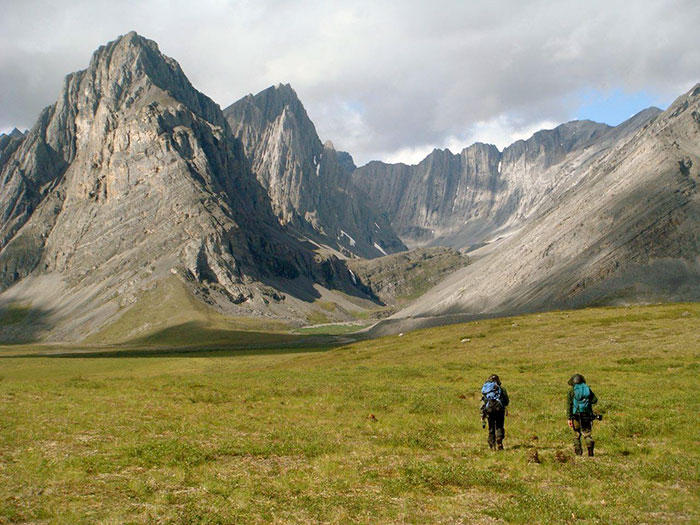 What is the Best Time to Visit?
If you don't like snow or ice, then it might not be the best idea to visit Gates of the Arctic during the winter. After all, it's the last stop before you reach the Arctic Circle, so it's going to be very, very cold. There are plenty of other things to consider when you're thinking about the best time to visit.
Keep in mind factors like weather conditions and water levels. For example, water levels tend to be significantly higher in the spring, due to melting ice. If you're planning a backpacking trip, remember that you'll be crossing rivers on foot, so in the spring, the water levels will be much higher than ankle-deep and the rapids may even be faster than usual.
While the winter is very long and summer is very short, Gates of the Arctic is a park full of extremes, no matter the season. In the southern portion of the park, you can expect high winds 24/7, below-zero temperatures in the winter, and much warmer temperatures in the summer.
The northern section of the park ranges in 1,000 to 8,000 feet higher than the southern part, so temperatures will be much colder and higher wind speeds. Summers are colder and winters are a bit warmer, due to cold air inversions.
The first heavy snow of the year usually occurs in late August, and the sun's heat doesn't melt the ice until late March. Rivers are full of ice during this long winter, and usually are completely melted fby June. There are plenty of resources and forecasts online that will help you see water, ice, snow, and wind levels.
How Many Days Do You Need in Arctic National Park?
As a general rule, backpackers prepare for at least a 21-day trip. Remember that even the most experienced backcountry travelers only make it 5 miles a day, so plan on anywhere from 3-4 weeks to get the full experience. Rarely do visitors take day-trips into the park because the most beautiful and remote parts of the park take several days to reach.
Tips for Visiting Arctic National Park
While you're visiting Arctic National Park, remember that you're staying in a very fragile arctic ecosystem. Take care of the land while you're there, obey the Parks Service's Leave No Trace principle, and leave the wild animals alone. Wear proper winter clothing, and pack only the essential items.
All visitors are asked to begin their trip at the Visitor's Center where park rangers will walk you through a backcountry safety orientation. This presentation will explain weather-related emergency plans, bear safety, and the Leave No Trace principles.
Where Should I Stay When Visiting Arctic National Park?
There are no designated campsites in the park, so you're on your own when it comes to choosing where you'll set up camp each night. When you're looking for a place to set up camp, look for hard surfaces. The best kind of ground is gravel or rock above the highest possible water level. The last thing you'll want is to wake up in the middle of the night covered in frigid Arctic water.
Is Arctic National Park Safe?
Gates of the Arctic is safe enough for visitors, but there's always risk in spending a few weeks in a wild Arctic landscape. You're in charge of your own safety in this park; you'll be camping and exploring in an 8 million-acre natural habitat for wild, and sometimes dangerous, animals.
As a good rule of thumb, don't bother the animals and they won't bother you. The one species you'll want to take special precautions for are grizzly bears; keep all your food, trash, and miscellaneous camping items that can be mistaken for food around 100 yards from where you sleep. If you come across carcasses, scat, or large diggings, be alert. Never approach a bear, and carry bear spray.
Other potential safety issues can be avoided with proper preparations. Make sure that several people know your location, have designated drop-off and pick-up locations with dates and times. The more you prepare, the safer you'll be.
Plan Your Visit
There are no entrance fees to enter the park! Simply arrive, stop by the Visitor's Center to park your car, attend the optional safety orientation, and begin your trek into the backcountry.
Gates of the Arctic is dog-friendly, however, you must remember the potential risks you bring by bringing your dog along on your trip. Having an animal with you will attract other animals, so be ready to be approached by wildlife. This is why you must keep your dog on a leash for its own safety, as well as yours. There are exceptions for hunters who have brought their bird-dogs with them. Bring pet life-vests for river crossings; the currents can be extremely swift and hard to paddle against.
Overall, prepare for your dog as much as you prepare for yourself so you both have a good time.
Why Is Arctic National Park Worth Visiting?
Gates of the Arctic is worth visiting because of the thousands of miles of untouched land, and countless opportunities for new experiences and solitude. With Gates of the Arctic being one of the largest parks in the world, you could be the first to set up camp at your chosen destinations.
Overall, you're going to have a great time at Gates of the Arctic if you plan properly, so get planning!