Claremont is a suburb in Pomona Valley and sits at the foothills of the San Gabriel Mountains.
While the city might be known for its tree-lined streets and historic buildings, it also has a long list of fantastic restaurants you should check out. Here are our top 13 best restaurants in Claremont.
The Whisper House
Located in Claremont's Packing House, The Whisper House is the type of restaurant where you can choose from an awesome assortment of cocktails or craft beer and chow down on great food.
The inside is cozy, but outdoor seating is available. Its expansive menu includes burgers, sandwiches, a chicken waffle sandwich, jambalaya, and tender tri-tips.
If you're looking for a tasty cocktail, you must try the Pink Rabbit, which is a nice balance of sweet and fruity.
You also don't want to miss brunch at The Whisper House, where mimosa kits allow you to make your own mimosas.
502 W 1st St, Claremont, CA 91711
Bardot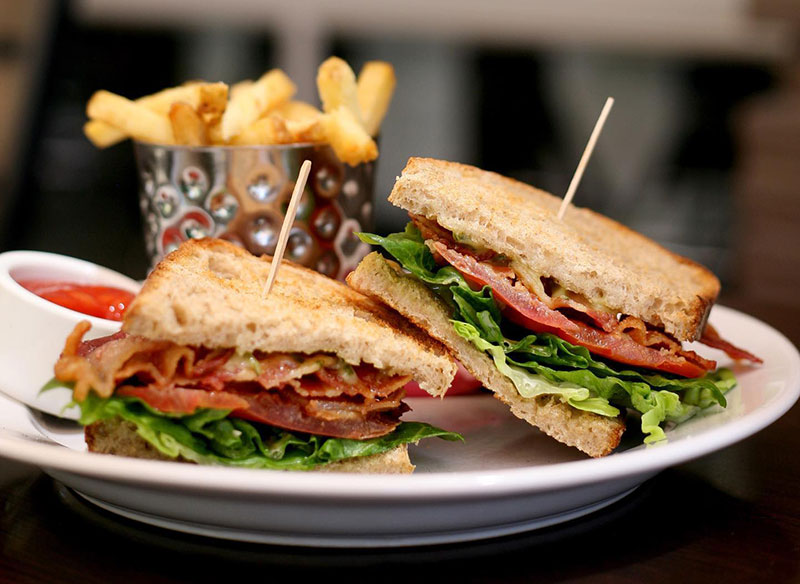 Located in the Historic Harvard Square, Bardot is serving up modern California cuisine. The location of Bardot can't be beaten and offers a spacious and refreshing outdoor seating with fire pits and heaters.
The menu has an excellent array of salads, soups, sandwiches, pastas, burgers, seafood and steaks. There are also a number of small plates that are perfect for sharing.
Its hard to navigate the extensive menu. But we'll make it easy for you: Short Rib Tacos, Pork Chop or the Gorgonzola Burger and if you plan on getting an appetizer, you must try the goat cheese lollipops, which are drizzled in honey and sprinkled with almonds.
Reservations are accepted, but you can walk in for a table, and nearby shopping makes the wait bearable.
206 W Bonita Ave, Claremont, CA 91711
Eureka!
If you like burgers, craft beer and whiskey, Eureka! is the restaurant for you. Tucked inside the Claremont Packing House, This hip gastropub is serving some of the best all-American inspired food in town.
The burgers are fantastic, especially the Cowboy burger, which is loaded with shoestring onion rings, bacon, cheese, and beer BBQ sauce. It makes my mouth water just typing it.
When it comes to alcohol, their selection is extensive. There's a great selection of craft cocktails, tons of beer (craft, local and bottled), wine and whiskey for days.
They have awesome specials on different days. Half off wine on Tuesdays. Steal the Glass Wednesdays, where you can keep the glass of the featured beer and on Saturdays, they offer $6 mimosas and bloody Marys.
580 W 1st St, Claremont, CA 91711
Dr Grubbs
Who said healthy food can't be delicious? Located in Claremont Village, Dr Grubbs offers up health conscious fare that will leave you feeling full and without the guilt.
The process At Dr Grubbs is simple, you pick a protein, side, and sauce, and then the rest is taken care of by the kitchen.
The blackened chicken is fantastic, the blackened salmon and shrimp is delicious and the portions are generous enough to have leftovers for tomorrow. I have never eaten anything that I have disliked here.
Dr Grubbs does serve wine and beer, along with typical fountain drinks. As a heads up, parking can be tricky, so you'll want to account for that if you are in a hurry.
373 W Bonita Ave, Claremont, CA 91711
Viva Madrid
If you're in the mood for tapas, you must try Viva Madrid in Claremont Village. The decor is fully fleshed out and immaculately detailed and will make you feel like you are walking into a restaurant in Spain.
Remember, tapas are small dishes, so you'll want to order a few dishes to prevent leaving with a hungry stomach. Thje prices of the tapas are fairly reasonable and it won't cost you an arm and a leg to have a great experience. However, they also have full-sized entrees if you are not in the sharing mood.
What should you get? The paella, of course! It is the star of the show and is incredible, despite it taking nearly an hour to make. So, give yourself the extra time to try it at least once.
Some other favorites are Pan de Tomate, Halibut with Creamed Carrot Sauce, and Tosta con Cabrales y Peras.
225 Yale Ave Ste B, Claremont, CA 91711
The Quarter Creole Cuisine
There's a serious lack of representation of Creole and Cajun food in Southern California and it's nice to see a restaurant that specifically specializes in it. And not only specailizing in it, but doing it well too!
The Quarter Creole Cuisine is a quaint restaurant in the Montclair area and offers various dishes that just may make you think you are in New Orleans.
The Shrimp & Grits are a favorite as well as the Catfish and the Gumbo and Jambalaya. The place can get packed, so it's highly recommended you get reservations.
Finally, you'll want to save room for the Bread Pudding with Bourbon Sauce. The Beignets are an excellent choice too and can go toe to toe with the ones you find at Cafe Du Monde in New Orleans.
201 N Indian Hill Blvd Ste 103, Claremont, CA 91711
The Meat Cellar
If you couldn't already deduce from the name, this is a very protein-centric restaurant, where you want to leave any of your plant-based friends and family at home.
You'll want to bring your appetite when you visit The Meat Cellar. The restaurant offers some of the highest quality steaks in a casual dining environment.
You can't go wrong with the Tomahawk Steak, which I hope you order medium rare or below. Anything above would be a great disservicce to that cuf of beef. Other highlights of the menu include the Braised Short Ribs, the Sapphire Samon and The Fancy Burger, which consists of wagyu beef, bone marrow aioli, caramelized onions, gruyere cheese, smoked bacon jam and arugula. That burger is the epitome of decadence.
For sides, go for the Brussel sprouts, mac n cheese, or garlic green beans. Even the sauces, particularly the creamy peppercorn, are worth writing home about.
You want to allow yourself extra time if you order one of the meats from the butcher counter menu, as it can take at least thirty minutes to get your meal.
160 W Foothill Blvd, Claremont, CA 91711
The Back Abbey
The Back Abbey opened its doors in 2008 and quickly made a name for itself as one of the best Gastropubs in town.
It is perfect place to grab a drink after work and grub on some exceptional tasting food.
They have all your usual offerings you can expect from a gastropub like burgers, sandwiches, fish and chips, soups and salads.
What should you get??
Get the Pommes Frites. They use Kennebec potatoes and double fry it in duck fat. Get the Back Abbey Burger. 6 ounces of dry aged beef layered with aged gouda, mustard aioli, caramelized onions and Niman Ranch Bacon and sandwiched between a buttery Brioche bun. Wash it all down with a beer or two. They have a crazy good list of beers including IPAs, lagers, stouts, blondes, sours, ciders and a ton more.
And if you somehow manage to have some room leftover for dessert, the Belgian Budino is a sweet tooth's dream come true. Double chocolate custard topped with salted caramel, whipped cream and rolled in Krumkake cookies.
128 N Oberlin Ave, Claremont, CA 91711
Aruffo's Italian Cuisine
Aruffo's offers rustic Italian food in a warm and welcoming setting. The menu has a extensive selection of all your favorite Italian classics and a whole lot more!
It's hard for us not to recommend everything, but the Lobster Ravioli, Lasagne Al Forno and the Pollo Salsiccia Bucatini keep us coming back.
You don't have to wait for your order to enjoy the delicious food. Diners receive a fresh basket of bread that is the perfect amount of crispiness and comes with marinara and seasonings.
If you have room for dessert, definitely spring for the cannoli. It's one of the best that we ever had.
126 Yale Ave, Claremont, CA 91711
Smoke & Fire Social Eatery
You might have seen Smoke & Fire's food floating around Instagram. Their social media following is substantial and its easy to see how they garnered such a huge following. They post the most incredible and mouth watering pics of food out of any restaurant that I have ever encountered. Even their post of their waffle fries look insane!
The food looks good on pictures, but how does it taste in real life? Incredibly indulgent and everything you would imagine it to be.
If its your first time, go for the glory and get the The Mac Rib. It consists of two smash patties, tender brisket, a massive short rib, American cheese, onions, and held together by 3 buttery Texas toasts.
There is really no wrong order here, everything is delicious. Wear you loosest fitting pants, because you are going to walk outta here with a thicker waistline.
401 E Foothill Blvd, Pomona, CA 91767
Gus's Barbecue
If you are looking for some great Southern BBQ, look no further than Gus's.
They have been around since 1946 diligently perfecting their craft and the results of their labor of love speaks for themselves.
Everything here is delicious! Their brisket, their tri-tip, their ribs, their fried chicken, their pull pork, their sausage links, there is no wrong order here.
As for the sides, you'll want to order their famous corn bread with the butter and jalapeño jam. Also you can't go wrong with the southern greens, creamed corn or red skin potato salad.
Gus's has a great southern spin on their sangria, but they also offer local craft beers, cocktails, wine, and whiskies.
The hip spot has outdoor seating, which is excellent for people watching in the iconic Claremont Citrus Packing House.
500 W 1st St. Claremont, CA 91711
Sanamluang Thai Cuisine
If you are looking for authentic Thai food, look further than Sanamluang. They are not one of those cookie-cutter Thai restaurants that serves up generic tasting Thai food. They are serving up food that a Thai grandma would be delighted to eat. Food that could pass the taste and smell test in Bangkok.
The restaurant is welcoming, and the servers can offer their recommendations if you aren't sure what you want. Some top menu items are the Pad Ka Pow, Fish Cake, Special Rahd Nah, and Som Tum.
My personal is the BBQ Pork Over Rice. A generous medley of bbq pork, Chinese sausage and roasted pork layered over a bed of soft white rice.
And I can't forget about the General Noodle Soup. A egg noodle soup that comes with shrimp, bbq pork, roasted duck and ground pork. Every spoonful is just a delightful experience for the mouth.
They can get pretty busy during peak times, so you want to bring your patience. You can beat the lunch rush by coming right when they open.
710 S Indian Hill Blvd, Claremont, CA 91711
Kazama Sushi
When you want a quality sushi experience in Claremont, Kazama Sushi should be at the top of your list. They have been around for some time and have quickly made a name for itself as the best sushi spot in town.
Kazama prides itself on the freshest, and highest quality ingredients. Customer can choose from a impressive array of sushi and sashimi and you can choose from an extensive list of creatively crafted rolls, including fresh fish rolls, baked rolls and tempura rolls.
The restaurant is small and intimate and the best seats at the house are at the sushi bar, where you will get the full undivided attention of the chefs.
You can even bring your favorite four-legged friend if you sit outside. Don't forget to finish the night with mochi or banana tempura ice cream.
101 N Indian Hill Blvd Ste C1-104, Claremont, CA 91711