Rancho Mission Viejo, translating to "Old Mission Ranch" in Spanish, is 23,000 acre residential community, habitat reserve, and ranch and farm.
It started out as land grants in 1845, and the rest of it is now a nature reserve and residential communities.
Come visit Rancho Mission Viejo for a true taste of California's Spanish culture and for some jaw dropping views!
Where exactly is Rancho Mission Viejo? How far is it from major cities?
Rancho Mission Viejo is in southwest California right between Los Angeles and San Diego.
It takes about an hour to drive from Rancho Mission Viejo to Los Angeles via I-5 N.

It takes about an hour to drive from Rancho Mission Viejo to San Diego via I-5 S.
Things to do in Rancho Mission Viejo
1. Esencia Sports Park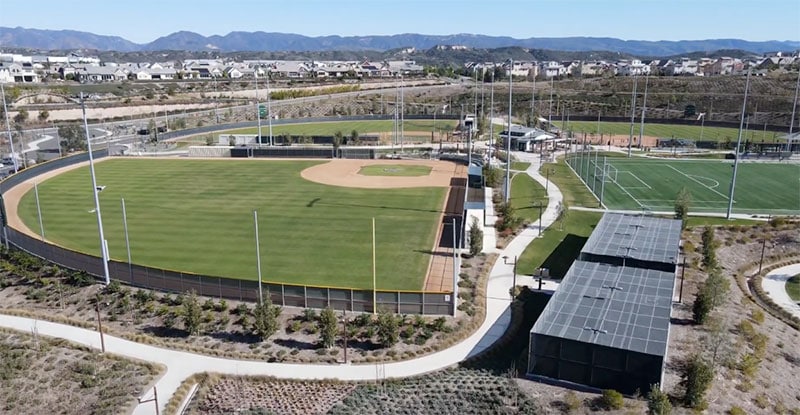 (photo: Matt Wolfrom)
Esencia Sport Park opened in the late summer of 2020 after almost two years of planning and building.
This is a 30-acre Sports Park that is perfect for everyone to get in touch with their inner athlete and live out their Ranch Life fantasies.
This huge park has pickleball, a swimming pool, tennis courts, soccer fields, softball and baseball diamonds, and multi-use fields for everyone to enjoy.
This is the perfect family affair, but that's not all. Since it's so high up, you get a breathtaking view of The Reserve and truly get to see Rancho Mission Viejo.
31 Escencia Dr, Rancho Mission Viejo, CA 92694
2. Sendero Field
Adventure Play Park at Sendero Field is a gorgeous escape from the miles and miles of houses in the surrounding area.
The entrance is off Ortega Highway. Take Crown Valley Parkway onto Antonia Parkway, and make a right at Ortega Highway, putting you at the correct spot to turn into the parking lot.
It's a "nature inspired" playground with an entry that has blue pathways and long grasses to capture the essence of a river.
You can find a nature biking path and wide sidewalk nearby. Keep an eye out for nests in the sycamores, swallows, turkey vultures, and lizards!
There is plenty of lawn for sports and gatherings with picnic tables.
However, there is often maintenance work and they close the gates, so don't completely count on a visit. But if you walk you'll be able to get in.
It gets very hot in the summer because the shade trees haven't grown up yet.
29201 Ortega Hwy, Mission Viejo, CA 92675
3. Rancho Mission Viejo Riding Park
The Riding Park is a public park where visitors are welcome- and encouraged! It's also the playing field for Blenheim EquiSports shows, an internationally recognized equestrian horse competition.
All horse shows are always free to the public and provide a special form of entertainment for the locals and travelers alike. The park loves when people attend and fall in love with the sport- sometimes even prompting people to learn themselves!
30753 Avenida La Pata, San Juan Capistrano, CA 92657
4. Shasta Sendero loop
This loop trail close to Ladera Ranch is just barely under 3 miles long and is moderately challenging. It takes about an hour and a half to hike. It's popular for hiking, walking, and trail running.
Come early in the morning or midweek to enjoy some solitude. It's open all year long, but the best times to hike are April through September.
Unfortunately, dogs aren't allowed.
5. Thomas F. Riley Wilderness Park
The Thomas F. Riley Wilderness Park has three main trails.
The Wagon Wheel Canyon and Oak Canyon Trail is a nearly 3 mile loop trail. It's moderately challenging and takes about an hour and 20 minutes to finish. It's popular for hiking, mountain biking, and horseback riding- so be ready to run into other people! The trail stays open year-round and is just as gorgeous in June as it is in December. You'll have to leave your pups at home though.
Meanwhile, the Mule Deer and Oak Canyon Trail Loop is almost 2 miles long. Usually taking around 50 minutes to complete, this trail is also moderately challenging and doesn't allow for dogs. It's a little quieter, though, and is mainly used for hiking.
Lastly, the Vista Ridge and Oak Canyon Loop takes about an hour and is just over 2 miles long. This one is moderately challenging as well, and is typically used for walking, hiking, and trail running. Just like the last two, dogs aren't allowed.
Parking is $3 daily. The machine accepts $1 bills, quarters, and Visa/Master cards.
The park is sometimes closed for up to three days after it rains to protect the trails.
30952 Oso Pkwy, Coto De Caza, CA 92679
6. Frisby Winery And Brewery
After over 10 years of Frisby Winery And Brewery creating small lot craft wines, the Winery has expanded into producing craft beers.
They have over 30 winemaking metals such as Double Gold, Gold, and Best of Class. They strive to create craft beer of the utmost quality to match their winemaking excellence.
They have a minimalist interior with a concrete floor and simple black chairs at the bar, with stainless steel everywhere to create an industrial feel.
28522 Airoso St, Rancho Mission Viejo, CA 92694
7. Mission San Juan Capistrano
(photo by DominusVobiscum)
Mission San Juan Capistrano is a museum and historic landmark known as the Birthplace of Orange County.
Founded over 200 years ago as one of the first ten of 21 missions around the state. It still has the chapel where Saint Serra celebrated Mass once.
Now, it stands as recognition of California's multi-cultural history, such as with Native Americans, Spanish, Mexicans, and Europeans.
It was originally built as a self-sufficient community by Native Americans and Spanish Padres and was a center for religion, education, industry, and agriculture.
Famous for the Annual Return of the Swallows, it has over 300,000 visitors each year.
26801 Ortega Hwy, San Juan Capistrano, CA 92675
8. Arroyo Trabuco Golf Club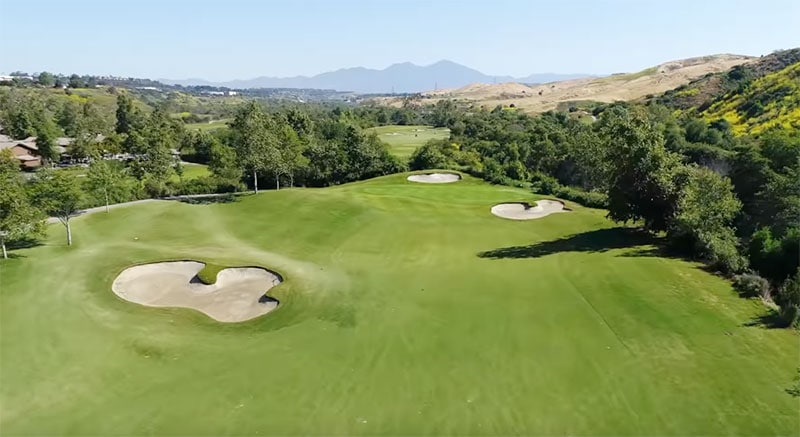 Arroyo Trabuco Golf Club is a public golf facility with an 18-hoe championship-length golf course that is designed by Tom Lehman, a PGA Tour professional along with a local golf course architect named Casey O'Callaghan.
They have award-winning Ranch Cuisine at their O'Neill;s Bar & Grill, featuring their very own Trabuco Pale Ale. If that's not your speed, there are also craft cocktails and a diverse list of wines. Chill outside in peace with their flat-screen TV's and superior service!
Quick facts:
Holes: 18

Par: 72

Yardage: 7,011
26772 Avery Pkwy, Mission Viejo, CA 92692
9. Outlets at San Clemente
These outlets have over 60 big brands with epic discounts in a jaw-dropping Spanish-style village looking over the Pacific Ocean.
It's Orange County's first (and only!) coastal outlet, located right between San Diego and Los Angeles.
101 W Avenida Vista Hermosa, San Clemente, CA 92672
10. Niguel Botanical Preserve
The Niguel Botanical Preserve boasts 2000 plant species, four miles of walking trails, 18 acres of land, and on top of it all they're open seven days a week from dawn to dusk!
Garden destinations include:
Australian Garden

Boy Scout-Trail to Eagle

California Garden

Chilean Garden

Citizen of the Year Grove

Girl Scout Tree Grove

Labyrinth, Gazebo and Formal Garden

Palm Canyon

Rose Garden

South African Garden

Succulent Row
We don't have time to go over all of these amazing destinations, so let's just go over a few.
The Trail to Eagle is a fan favorite, installed in April 2001 and depicting the advancement of a Scout. The trail highlights the Boy Scouts of America with community service projects and Eagle projects done by Scout Troops and other units.
The Chilean Garden is located in a spot on the Preserve that was previously overtaken by invasive wildflowers. So in 2016, the Greenhouse Manager started growing Chilean Plants from seed. In 2017 pathways were installed, and on Earth Day 2017 plants were planted with a bunch of Chilean specimens.
29751 Crown Valley Pkwy, Laguna Niguel, CA 92677