Historically, the area surrounding present-day Los Angeles was home to a group of native peoples called Tongva who were sometimes also known as Gabrieleños or Sejats by the Spanish missionaries that first came into the area at the turn of the 19th century.
Spanish settlers moved into the area and established a cattle ranch. In 1871, Dr. James E. Fulton discovered a sulfur spring where he established a health spa which drew 400 patients to the area each year.
In 1886, the railway came and built a station on land they bought from the doctor. At the turn of the 20th century, the oil industry came as Santa Fe Springs proved to be one of the richest sources of petroleum, causing the industry to boom through the 1920s and 30s before its slow and eventual decline.
Perhaps having been created in harmony with the petroleum pools, the famous American-British crossbreed of racing car called the Shelby Cobra was born in Santa Fe Springs.
The town's history spans centuries during which its prime industry changed greatly, developing from local agriculture to the export oil industry. Today, Santa Fe Springs' history still shines in many of its attractions.
Where exactly is Santa Fe Springs?
Santa Fe Springs is a "Gateway City" to southeast Los Angeles. It is conveniently located at the crossroads of the 605 and 5 freeway- the latter of which brings you directly into the center of L.A.
It's a mere 18 minute drive from one to the other! Its convenient location also means that it shouldn't take more than half an hour to get to the beach, traffic permitting.
Things to do in Santa Fe Springs:
1. Santa Fe Springs Swap Meet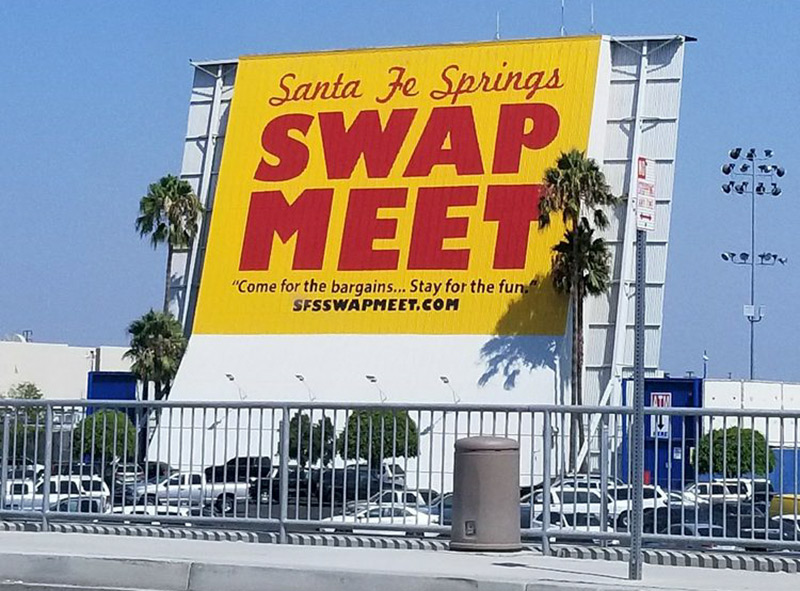 Love to give new life to old things? Want to shop local? The Santa Fe Springs Swap Meet is the perfect place to do both these things and more.
There are over 600 vendors to shop from, which means a full day of retail therapy.
It's okay if shopping isn't your thing, as there is plenty more to do – bring your walking shoes and get ready to enjoy live music every Friday, Saturday, and Sunday.
There's also food vendors and even a beer bar. During the week, entry is free, but on the weekends it's a mere $3.50 max.
(Related: The 7 Best Swap Meets in Orange County)
2. Hathaway Ranch Museum
Dating back to the days that the town was called Fulton Wells, the Hathaway Ranch Museum is a gorgeous ranch house sat on five acres of land that has been preserved and dedicated to the history of ranching and oil culture.
The non-profit museum features artifacts from the time, including machinery and miscellany of daily living, as well as hands-on and immersive exhibits.
It's a testament to early 20th century farm life and hard-working pioneer culture. The museum first opened in 1986 and has been able to continue thanks to charitable donations.
3. D.D. Johnston-Hargitt House Museum
Just south of Santa Fe Springs in Norwalk is an equally historic house. Preserved since 1891, the ranch house of D.D. Johnston is a testament to the man who brought the first school district to the area and helped established the first industry, both of which paved the way for even more settlers to develop more industry in the area.
Originally on 120 acres of farmland, today only the original house and water tower remain, both of which are a nationally registered landmark.
You can view the history of this ranch, with family heirlooms displayed inside, on the first and third Saturday of the month.
4. Clarke Estate
(photo: Northwalker)
While pioneer history dominates the area, there are still some historical landmarks dedicated to a more recent history.
Built between 1919 and 1921, the Clarke Estate is a house made famous thanks to its renown architect, Irving Gill, who built the house for Chauncey and Marie Rankin Clarke.
The seemingly simple-looking building blends Mediterranean and Mission Revival influences and features the signature Gill pergola, unadorned surfaces, and concrete construction.
This house is one of the few remaining testaments to Gill's work and is filled with antiques collected by the Clarkes in their world travels.
5. Heritage Park
Heritage Park is so much more than a patch of grass to picnic on surrounded by soccer fields and a children's play set.
It is a beautifully cultivated garden, complete with greenhouse, to have a stroll in or enjoy your lunch comfortably – there are even chairs and tables in the conservatory.
The acres of the park are populated with interesting exhibits as well, including a rehabilitated carriage barn-turned-café, a recreation of a native Tongva village, and an homage to the history of the railroad industry, complete with three train cars.
6. Amelia Mayberry Park
On the other side of town, Amelia Mayberry Park is a more relaxed alternative to Heritage Park. There are 14 acres of land for sports and recreation.
There are baseball and softball fields, basketball courts, a full skatepark complex, and plenty of grassy space for athletics and casual soccer games.
There's even splash pads for the little ones to cool off in in the hot summer haze. After you've worked up an appetite, grill lunch on one of the barbecues and enjoy at a picnic table or under a shelter.
7. HiroNori Craft Ramen
HiroNori brings delicious traditional Japanese cuisine to Santa Fe Springs. The craft ramen restaurant specializes in the iconic soup bowls, replete with delicious broth and noodles.
Slurp up delicious meat or veggie options and test your limits with their extra spicy broth. They also offer rice bowls for those who can't be trusted not to spill.
Every place is set with chopsticks, ready for you to indulge in tonkotsu or shoyu. You also have the options to add extras, for those who love more than one egg in their ramen, or pair traditional sides like steamed pork buns or edamame with your meal.
8. Splash! La Mirada Regional Aquatics Center
Over in La Mirada, Splash! Regional Aquatics Center is a place for everyone in neighboring towns to take advantage of.
Perfect for families, kids will enjoy the water park called Buccaneer Bay where they can slip down three water slides, relax in a lazy river, and play in two spray pad areas or on the interactive play structure.
For anyone just starting out, Splash! offers swim lessons in their 25 yard teaching pool and well as water exercise classes for adults. For the more serious swimmers, there's a 50 meter competition pool.
9. Arroyo Pescadero Trailhead
You don't have to drive out of the county to enjoy local wilderness – the Hacienda Hills offer some beautiful nature trails with stunning city views.
The Arroyo Pescadero and Deer Loop Trail is a perfect example of an easy route. It gains less than 100 yards over its ascent.
The loop trail runs for a 2.6 miles, taking about an hour and a quarter to hike, not including time spend enjoying the view! It's a great place for year-round hiking or horseback riding.
It says dogs are welcome, but some people have reported some trails being marked otherwise.
10. Golf N' Stuff
More fun than a stuff-shirt, members-only golf club, Golf N' Stuff is a fun place to go for the whole family. They also have so much more than a mini golf course.
While you can enjoy putting your way against the competition over 18 holes, you can also choose to race on the Lit'l Indy Raceway in a go-kart, go head to head in bumper boats, let the little ones ride on the Cannonball Express Train, or rack up your winnings in the arcade, complete with classic Ms. Pac Man.