New Mexico is a veritable booze haven. Already home to a great local wine scene, believe it or not, the state has slowly begun to be taken over by craft beer in the last decade.
Albuquerque itself is a hotspot of breweries to the point that it now has its own Brewery District just east of I-25.
This city bisected by the Rio Grande has a lot to brag about, as many of these breweries have won awards at the state and national levels.
Here are the 8 best breweries in Albuquerque:
1. Bow and Arrow
Bow & Arrow Brewing Co. is a Native woman owned brewery. The cofounders come from the Three Affiliated Tribes (Mandan, Hidatsa, and Arikara Nation) of North Dakota and the Navajo (Diné) Nation.
Together, these two women have blended their backgrounds in economics, design, and social impact to run a successful brewery.
They brew a range of flavors, from IPAs to farmhouse ales. Bow & Arrow have also set up a remarkable campaign called Native Land, which encourages breweries to acknowledge beer brewed on native lands, if not also donate proceeds from these beers to native non-profit organizations.
Their beautiful beerhall features Oktoberfest-style shared-table seating in a bright, wood-clad space. They also have a patio you can drink on. Bow & Arrow has a second location, a taproom in Farmington.
The Rambler Taproom is on the doorstep of the Navajo Nation. Every single day of the week, Bow & Arrow have guest food trucks that serve food from the afternoon 'til 9 pm.
'You have a choice from Salvadorian dishes, comfort food, burgers, and of course native cuisine, to name a few. Check their website for the month's lineup.
Beer Recommendations:
Scenic West – 6.5% ABV Hazy IPA – Their most popular brew on Untappd.
Denim Tux – 4.9% ABV Pilsner – For no reason other than the name (and that it's tasty, of course).
608 McKnight Ave NW, Albuquerque, NM 87102
2. Ex Novo
"Ex Novo" is Latin for "from the beginning" or "from scratch." Ex Novo Brewing Company lives up to its name, as it has been making quality, hand-crafted beers since 2014.
They started in Portland, Oregon and expanded to have locations in Beaverton, OR and Corrales, NM – a village on the north end of Albuquerque.
From the beginning, Ex Novo has donated 100% of their net profits to organizations that they deem are building a better world.
You can donate your work profits to Ex Novo by buying pints in their taproom. Their Corrales location looks like a classic adobe building.
It features a glowing patio with plenty of tables and umbrellas and a pergola to protect you from the New Mexican sun.
The taproom hosts the same food trucks each night so you know exactly what's on the menu each day of the week.
Beer Recommendations:
Perle Haggard – 5.1% ABV German Pilsner – Gold medal winner at the GABF.
Threat Level Turquoise – 6.8% ABV West Coast IPA – Gold medal winner at the GABF.
4895 Corrales Rd, Corrales, NM 87048
3. La Cumbre
The motto printed on the logo of La Cumbre beers is "New Mexican Beers at Their Peak," a sentiment reflected from their name. "La Cumbre" name means "pinnacle" in Spanish. The brewery's goal since it opened in 2010 has been to "represent the absolute apex of the art of brewing."
Their beers are split into year-round offerings and seasonal brews, all of which pay some homage to New Mexico or the natural wonders found in the state.
La Cumbre has two taprooms in the center of Albuquerque. Both open every day of the week at noon.
The brewery taproom has a very rustic, mountain saloon feel inside, featuring very cool bottle displays and echoes of native design in their can art.
Their Westside taproom has a more open space with 1960s accents the evoke license plates (down to the chandelier actually made from New Mexican license plates!) and native murals.
You can check the guest food trucks that are schedule to set up shop on their website.
Beer Recommendations:
La Cumbre Beer – 4.7% ABV Lager – Gold medal winner at GABF 2011 and the World Beer Cup 2016.
Elevated IPA – 7.2% ABV – Gold medal winner at the GABF 2011 and winner of bronze at the World Beer Cup 2012.
3313 Girard Blvd NE, Albuquerque, NM 87107
4. Boxing Bear
Boxing Bear Brewing Company delivers beer with a punch. It was started on the banks of the Rio Grande by three friends who want to create quality craft beers.
They have a range of "heavy hitters," or year-round offerings, as well as "special contenders," or seasonal brews. Many of their beers have won awards, and the brewery itself has won gold for the best, mid-size brewpub at the GABF in 2016.
They go beyond brewing now, though, as they also produce local wine, setting them apart from many other craft breweries.
Today, they own four locations across Albuquerque, including their original brewpub and brewery on the Rio Grande. Each location has its own food set-up.
The flagship Firestone Taproom and Brewery and their West Downtown locations have regular food trucks scheduled each night of the week; the Corrales taproom serves Vietnamese fusion Wednesday through Sunday; and their Bridges on Tramway taproom recommends neighbor restaurants to order from.
Beer Recommendations:
Chocolate Milk Stout – 5.2% ABV Sweet Stout – Winner of five medals, including both the World Beer Cup and GABF 2016 gold.
Bear Knuckle IPA – 7.7% ABV IPA – Four time winner at the New Mexico IPA Challenge.
10200 Corrales Rd, Albuquerque, NM 87114
5. Gravity Bound
Gravity Bound was founded by two brothers, a brewing veteran and an actual veteran, and is dedicated to environmentally conscious brewing.
They use 100% electric resources, 20% of their power comes from solar panels, and they even grow some of their brewery ingredients on site.
Their commitment to sustainability goes well beyond these few examples, really driving home the emphasis on recycling and tapping into local resources and businesses.
They brew classic beer styles alongside a lot of kombucha on their all-electric kit.
Their taproom downtown has a touch of adobe meats futuristic glass bottle wall. There's an outside drinking area with canopies to block out the sun.
The cool murals painted on the exterior of the building continue inside, where even the beer taps are built into a glass bottle pedestal.
The taproom is open Tuesday through Sunday and has guest food trucks every night they're open. Unique to other breweries, Gravity Bound has a bagel food truck starting from 10 am for Sunday morning brunch!
Beer Recommendations:
Garden Spot – 5% ABV Gose – A sour beer steeped with cucumber and basil.
Where Lightening Strikes – 4.8% ABV Pilsner – Their most popular beer on Untappd.
816 3rd St NW, Albuquerque, NM 87102
6. Marble Brewing
Marble Brewing has been pushing the boundary since 2008. Brewers of premium craft beer, they now distribute throughout New Mexico, Arizona, Texas, and Colorado, but they stated in Albuquerque where they still brew all of their classic line-up, keg, and can their beers.
They opened a second smaller brewery across town where they experiment with more creative brews. They've gotten so popular that they even offer a very reasonably priced Brew Club that gives members discounts on beer, merch, and events.
Marble Brewing has three taprooms you can drink in in Albuquerque. All of them offer guest food trucks every night, some locations double booking in one day so you have a choice between two cuisines!
The taprooms all also host live music and special events through the weekend. You can check the schedule for each taproom on Marble's website.
Beer Recommendations:
Double White – 7% ABV Wheat Ale – A gold medal winner in the Other Strong Beer category at the 2014 GABF.
Pilsner – 4.7% ABV Pilsner – Winner of the bronze medal for Kellerbier at the 2017 GABF.
111 Marble Ave NW, Albuquerque, NM 87102
7. Steel Bender Brewyard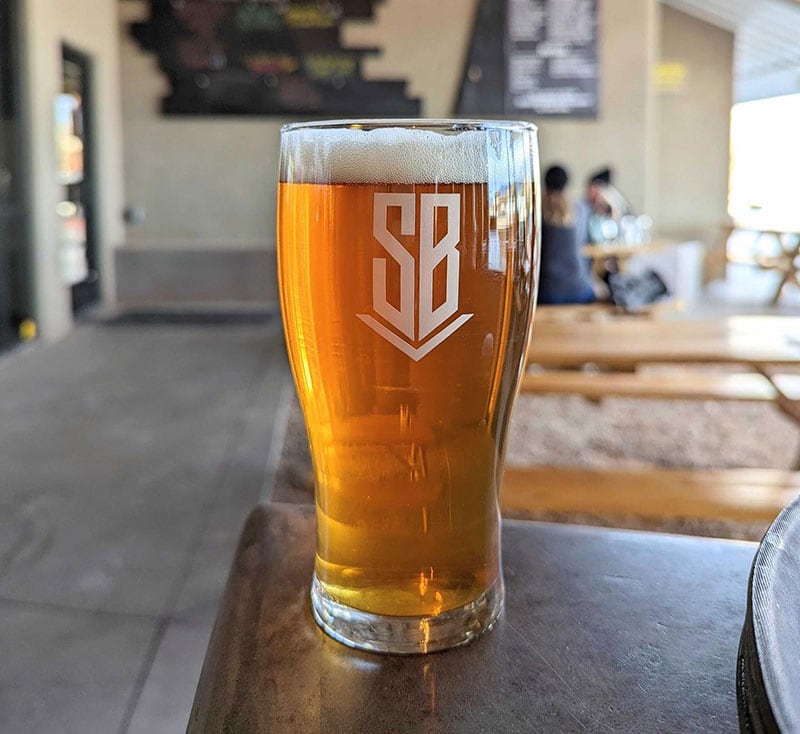 The Steel Bender Brewyard has one mission: to brew stronger. A family-owned business, they have a regular line-up of nine house beers which are complimented by special brews.
They also have a prolific barrel-aging program. Alongside their beers, Steel Bender Brewyard also produces fermented ciders.
Their delicious creations go beyond the brewhouse: their taproom features a full kitchen that specializes in comfort pub food.
They serve burgers and pulled pork, green chili stew, and have won awards for their vegetarian seitan wings.
Make sure you try their stout brownie for dessert, it's made with their current stout option!
Beer Recommendations:
Black Hole Sun – 6.4% Black IPA – Winner of their yearly Beer Bracket Brewhaha.
Skull Bucket IPA – 7% IPA – Their most popular beer on Untappd.
8305 2nd St NW, Los Ranchos De Albuquerque, NM 87114
8. Bosque
Bosque Brewing Co. is one of the largest breweries in New Mexico. They have been producing great craft beers since 2012.
Their ethos is based on inclusion, wanting to make a home for people and welcome them to a place they've always called home: New Mexico.
They don't limit themselves when it comes to brewing, making all sorts of varieties in all sorts of ways – including a pickle gose, hard seltzer, and beer with sparkles (the Honky Tonk Cantina kettle sour)!
In a mere ten years, Bosque has expanded to have six locations across New Mexico, including their original brewery and taproom: Bosque North.
Looking reminiscent of a boat house, the taproom sits just off the banks of the Rio Grande, with plenty of outdoor space on their patio to enjoy your beer and food.
They have a full kitchen that offers sharing plates, soups and salads, burgers, entrees, and taco plates! They even have a few choices for dessert.
Beer Recommendations:
Acequia Wet Hop IPA – Fresh Hop Ale – Winner of gold at the 2015 GABF for Fresh Hop Ale.
Bosque Lager – 4.8% ABV Pilsner – Winner of silver at the 2016 GABF for German-style Pilsner.
106 Girard Blvd SE B, Albuquerque, NM 87106