Atlanta is the unofficial capital of the south. It boast a rich history and culture and offers great food, museums, great live music and tons of attractions, no wonder 35 million people flock to the city every year.
If you are thinking about visiting Atlanta and have qualms about the safety of the city, we got you covered. We deep dived into the statistics, crime reports and talked to the residents of the city to give you a better understanding of how safe the safe the city really is.
Is Atlanta Safe To Visit?
Statistically speaking, Atlanta is a moderately safe place to visit. In 2021, Atlanta had a violent crime rate of 697.62 per 100,000 people. It's violent crime rate is 1.75x greater than the national average and is on par with cities like San Antonio, Sacramento and Boston.
Here's a scale to give you some perspective on Atlanta's violent crime rate:
Atlanta Crime Stats For 2021
Here's a breakdown of all the crimes in the city for 2021 compared with 2020:
| | | | |
| --- | --- | --- | --- |
| | 2020 | 2021 | % Chg. |
| Murder | 157 | 158 | 1% |
| Rape | 119 | 166 | 39% |
| Robbery | 872 | 803 | -8% |
| Agg. Assault | 2,320 | 2,529 | 9% |
| Burglary | 2,120 | 1,628 | -23% |
| Larceny/From Auto | 8,375 | 8,096 | -3% |
| Larceny / Other | 4,545 | 4,973 | 9% |
| Auto Theft | 3,081 | 3,057 | -1% |
| TOTAL | 21,589 | 21,410 | -1% |
*All data is from the Atlanta Police Department
Atlanta's Violent Crime Stats
In 2021 Atlanta reported 3,656 violent crimes and had a violent crime rate of 697.62 per 100,000 people.
The national average for violent crime is 398.5 per 100,000 residents. Atlanta's violent crime rate is 1.75x greater than the national average.
Atlanta's violent crime rate is 1.74x greater than the state average.
Year over year violent crime has increased by 5%.
Atlanta's Property Crime Stats
In 2021 Atlanta reported 17,754 property crimes and had a property crime rate of 3,387.73 per 100,000 people.
The national average for property crime is 1958.2 per 100,000 residents. Atlanta's property crime rate is roughly 1.7x greater than the state and national average.
Year over year property crime in Atlanta has decreased by 2%.
Atlanta property crime rate is similar to Dallas, Savannah and Jacksonville.
Atlanta's Murder Stats
In 2021, Atlanta reported 158 homicides and had a homicide rate of 30.15 per 100,000 people.
Here's a map showing you the locations of all the 158 homicides that occurred in 2021: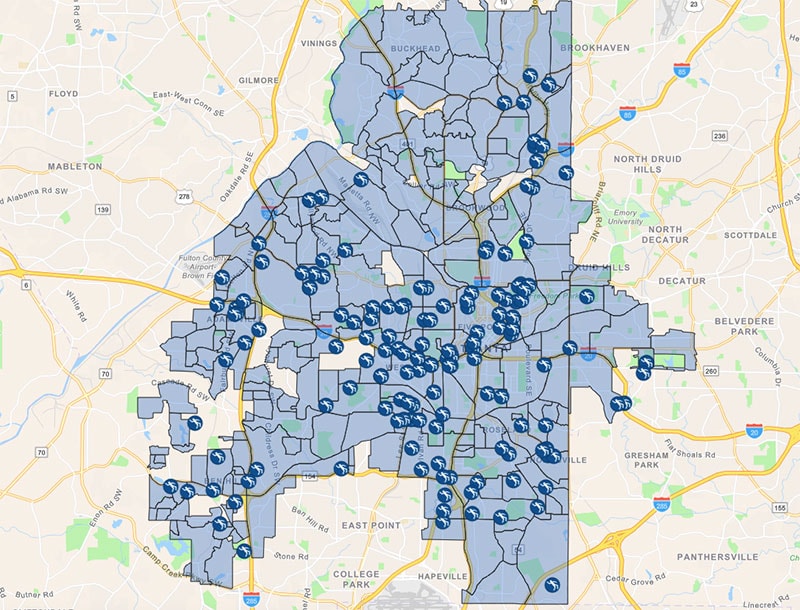 Aggravated assaults and motor vehicle theft also increased 15% and 4% respectively. While rape, robbery, burglary and larceny decreased.
*Crime rate is calculated by dividing the number of reported crimes by the total population; the result is multiplied by 100,000.
Atlanta vs The Most Dangerous Cities In The United States
Here's a list of the top 18 most dangerous cities in the United States ranked by violent crime rate. Atlanta's violent crime rate is 3.5x less than Memphis, the most dangerous city on the list.
| | | |
| --- | --- | --- |
| City | Number of violent crimes in 2020 | Violent Crime Rate |
| | 15,310 | 2,418.24 |
| | 14,370 | 2,248.44 |
| | 6,017 | 1,995.17 |
| | 3,657 | 1,805.11 |
| South Bend | 1,765 | 1,706.09 |
| | 6,294 | 1,689.10 |
| | 9,407 | 1,629.70 |
| | 3,166 | 1,577.22 |
| | 7,919 | 1,558.58 |
| Lansing | 1,699 | 1,508.29 |
| Springfield | 2,545 | 1,504.35 |
| | 8,552 | 1,404.20 |
| | 3,033 | 1,365.59 |
| | 5,215 | 1,358.08 |
| | 7,552 | 1,337.68 |
| | 5,653 | 1,282.89 |
| | 4,023 | 1,254.04 |
The Most Dangerous Neighborhoods in Atlanta
Here's a map showing you the worst neighborhoods that you should avoid while visiting Atlanta:
Bankhead is a neighborhood located west of downtown Atlanta, Georgia.
The Bluffs is a neighborhood in north west Atlanta and just west of Georgia Tech. It is notorious for high crime rates and illegal drug activity. There is even a found footage-style drama film called 'Snow on Tha Bluff', which captures the grittiness of the area perfectly.
Mechanicsville is a neighborhood that sits just south of downtown Atlanta.
Pittsburgh is located in south Atlanta and was named Pittsburgh because of the industrial area's steel mill reminded one of Pittsburgh, Pennsylvania
Adair Park is a residential neighborhood situated southwest of downtown Atlanta
Grove Park is a neighborhood located in north west Atlanta
Oakland City is a neighborhood located in south west Atlanta.
English Avenue is a neighborhood located north west of downtown Atlanta
Vine City is a neighborhood located east of downtown Atlanta.
Safest Neighborhoods In Atlanta
Midtown
East Atlanta
Virginia-Highland
Poncey-Highland
Buckhead
Morningside
Underwood Hills
Candler Park
Inman Park
Little Five Points
Cabbagetown
Grant Park
Edgewood/Old Fourth Ward
Is Downtown Atlanta safe?
Downtown Atlanta is generally safe to visit during the day time, however we do not recommend that you walk around downtown at night. It is not well populated and there is not much to do. Many residents of the city say it is dead after dark and has poor food, nightlife, and shopping options.
If you find yourself in downtown and need assistance or aren't comfortable walking back to your car or hotel, you can always call an Atlanta Ambassador to help you. They can accompany you back to a safe location, provide medical assistance, or help you find your destination.
A better alternative to downtown, is midtown, which is safer, more livelier and have way better restaurants and bars.
Here are a few additional thoughts from residents regarding the downtown and midtown area:
"After the commuters leave at 6pm, everything in downtown closes and city life dies down."
"Midtown is generally a very safe place. The sketchiest place is the area around the North Ave Marta station. Everywhere else is fine."
"Crime, bums, parking, and we can't have anything nice downtown."
"Downtown is just for parking."
Is the public transportation of Atlanta safe?
MARTA is the primary public transportation provider in Atlanta and consists of subways, buses and streetcar. MARTA is as safe as any other major metropolitan city public transit, however statistically speaking, south of the city would be the least safe portion and north would be safer.
Most residents generally agree that MARTA is a pretty safe option for getting around in the city. However many residents agree that taking MARTA at night can get a little sketchy.
Since you are visiting probably not familiar with the layout of the city, we do not recommend that you take MARTA late at night. We recommend you take a cab or use Uber or Lyft.
"I have used MARTA for normal 9-5 commuting for many years and it's fine. Late at night can feel a little sketchy, especially if you're alone. I recommend avoiding the bus at night. It is not as reliable and depending on the route, can be a less pleasant experience."
"As a tip, I wouldn't use MARTA after 7pm. It gets dicier after 7. The crowd is rowdier in the evening."
"I never felt unsafe while using MARTA, but they were constantly unreliable."
"The thing about MARTA is it is not reliable. If you have to be somewhere on time, make sure you leave enough time for delayed arrivals."
"I've been riding it for a decade. It's safe. If someone makes you feel uncomfortable, hop train cars at the next platform."
Safety tips for riding MARTA:
Know your route & where you're going. This prevents you from having to ask some random person at the station how to get to xyz & what time the bus/train arrives or leaves
Kep your card preloaded so you don't have to carry cash.
There are some people you're going to see on the trains A LOT. Ignore them. They run game and they feed off people not recognizing them from the day before. If they ever ask you for money or to buy something, jsut say no & ignore them. If they persist, get up & move to another seat or train car.
Don't sit locked into your phone, look up. Don't get locked into you headphones, listen to what's going on around you.
If you're going to stay past 11:30pm,, you will need to secure a different mode of transportation. MARTA hours are: Weekdays: 5 a.m. – 1:30 a.m. Weekends and Holidays: 5 a.m. – 12:30 a.m.
What do residents of Atlanta say about its safety
"I've never been afraid to go to the grocery store or get gas, but now if it's dark outside, I won't go"
"It's really scary because you don't know where the shots are coming from, who's going to get shot, or who's going to be killed. It's just everywhere."
"I've lived in Los Angeles, Detroit, Baltimore, and a few other major cities, and never had a problem with burglaries until I moved to Atlanta.To be honest, I feel safer in Compton, Chicago, Watts or Detroit than I do in Atlanta. I've been in Atlanta for only 4 weeks and have had my car broken into twice. Wtf."
"Although crime overall is decreasing, violent crime and shootings are increasing. It started after things got crazy with quarantines. My area is seeing an increase in this. Just recently we had someone get murdered right outside my condo in a botched carjacking."
"Crime happens everywhere in the city. No place is completely safe. South of downtown, west of downtown, west of west-midtown, and west of the westside area have high incidents of crime.
"The places you don't want to walk around, you probably won't find yourself walking around. But always be cautious, crime can happen anywhere."
"English Avenue, Vine City, Mechanicsville, and Pittsburgh are the dangerous Atlanta neighborhoods. They all have a lot more crime than anywhere else in town."
"Atlanta has good and bad spots, although the bad spots tending to be worse than most."
"Gun violence is extremely localized to area you wouldn't want to visit anyway. If you visit an in-town neighborhood, you may hear gunshots, but it is extremely unlikely that you will witness, or be involved in a shooting."
"Stay out of south Atlanta."
"You should be safe in the outskirts of the city. As a general rule of thumb, the closer you are to the city, the more dangerous it is. But when in the city. Always be prepared for anything."
"I have lived in Atlanta all my life and I feel safe in most places. I have even lived in the southwest area that everybody seems to be so scared of and never had a problems there. I think it's all about having street street smarts and being vigilant."
Is Atlanta safe at night?
Atlanta is only safe at night if you are in the right area. There are areas of Atlanta where you shouldn't even think of going at night, namely the neighborhoods mentioned above. These are the most dangerous areas and even long time residents have qualms about going there at night.
Is it safe to visit alone?
Atlanta can be a safe place to travel alone as long as you know the layout of the city and know which areas to avoid. Atlanta is just like any other city and there are risks involved when you're in a big town by yourself.
Research the areas in Atlanta that you want to visit and use Google Maps street view to see if the areas is sketchy.
Tips to stay safe in Atlanta
Don't draw attention to yourself. Blend in as much as you can. People who look like tourist or are from out of town are especially vulnerable to crime.
Always be aware of your surroundings. If someone near you is acting suspicious or if you feel uncomfortable, leave the area immediately.
Always keep the inside of your car clean and free of anything of value that a thief may want to steal.
Don't bury your face in your phone or get lost in your headphones. If you head down a dark street with your face buried in your phone, you're gonna have a bad time.
Be cautious for cars that stop suddenly.
Don't entertain or acknowledge street shenanigans. Keep moving forward.
Walk with vigilance and don't advertise your valuables.
Don't share too much information with strangers. Never share your room number. If someone ask you where you are staying, give them vague answers or lie and tell them a different hotel.
Stop using your back pocket. Don't leave your wallet or phone in there.
Don't walk around alone at night. Use an Uber or Lyft to get you to your destination.
Quick Facts About Atlanta
| | | |
| --- | --- | --- |
| Fact | Atlanta, Georgia | United States |
| Population, Census, April 1, 2020 | 498,715 | 331,449,281 |
| Population, Census, April 1, 2010 | 420,003 | 308,745,538 |
| Persons under 5 years, percent | 5.4% | 6.0% |
| Persons under 18 years, percent | 18.3% | 22.3% |
| Persons 65 years and over, percent | 11.5% | 16.5% |
| Black or African American alone, percent | 51.0% | 13.4% |
| American Indian and Alaska Native alone, percent | 0.3% | 1.3% |
| Asian alone, percent | 4.4% | 5.9% |
| Native Hawaiian and Other Pacific Islander alone, percent | 0.0% | 0.2% |
| Two or More Races, percent | 2.4% | 2.8% |
| Hispanic or Latino, percent | 4.3% | 18.5% |
| White alone, not Hispanic or Latino, percent | 38.3% | 60.1% |
| Foreign born persons, percent, 2015-2019 | 7.6% | 13.6% |
| Median value of owner-occupied housing units, 2015-2019 | $290,400.00 | $217,500.00 |
| Median selected monthly owner costs -with a mortgage, 2015-2019 | $1,916.00 | $1,595.00 |
| Median gross rent, 2015-2019 | $1,153.00 | $1,062.00 |
| High school graduate or higher, percent of persons age 25 years+, 2015-2019 | 90.9% | 88.0% |
| Bachelor's degree or higher, percent of persons age 25 years+, 2015-2019 | 51.8% | 32.1% |
| Persons without health insurance, under age 65 years, percent | 11.5% | 10.2% |
| In civilian labor force, total, percent of population age 16 years+, 2015-2019 | 65.6% | 63.0% |
| Median household income (in 2019 dollars), 2015-2019 | $59,948.00 | $62,843.00 |
| Per capita income in past 12 months (in 2019 dollars), 2015-2019 | $47,424.00 | $34,103.00 |
| Persons in poverty, percent | 20.8% | 11.4% |
Other Cities You Might Be Interested In: