Chicago is the 3rd most populous city in the United States. Nearly 3 million people call Chicago 'home'. The Windy City is home to world-class restaurants, museums, beautiful architecture, a vibrant art scene and so much more.
If you are thinking about visiting Chicago and have qualms about the safety of the city, we go you covered. We deep dived into the statistics, crime reports and talked to the residents of the city to give you a better understanding of how safe the safe the city really is.
Chicago Crime Stats
If you only look at the statistics, Chicago is an unsafe place to visit. According to crime statistics released by the FBI, Chicago had the 17th highest violent crime rate in the country in 2019, 1,098.86 incidents per 100,000 residents. It also ranked 55th for property crime rate in the country, 3,263.80 per 100,000 residents.
The average violent crime rate for the United States is 366.7 per 100,000 residents and the average property crime rate for the United States is 2,109.9 per 100,000 residents.
Chicago's violent crime rate is 3 times the national average and its property crime rate is more than 1.5 times that national average.
Chicago has the highest violent crime rate of any city in the United States with a population of over 1 million people and Houston comes in second.
Chicago Murder Statistics
In 2020 Chicago reported 771 homicides, which was a staggering 55.75% increase from 2019, where 495 homicides were reported.
Chicago also reported 4,033 shooting victims in 2020 compared with 2,598 the year before, which is a 55.23% increase.
A person was shot every 2 hours and 6 minutes and a person was murdered every 11 hours and 6 minutes in Chicago in 2020.
As of October 21, 2021, there have been 678 homicides reported in Chicago, which is a 3% increase year over year.
Other Crime Stats
Aggravated assaults and motor vehicle theft increased by 8.59% and 10.565% respectively.
Rape, robbery, burglary and larceny decrease in 2020 when compared to 2019.
Total violent crime in Chicago decreased by 4.08% and total property crime in Chicago decreased by 5.23% in 2020
Here's a breakdown of all the crimes in the city for 2020 compared with 2019:
| | | | |
| --- | --- | --- | --- |
| | 2019 | 2020 | Percentage Change |
| Homicide | 495 | 771 | +35.79% |
| Rape | 1,785 | 1,346 | -24.59% |
| Robbery | 7,990 | 7,869 | -1.51% |
| Aggravated Assault | 15,283 | 16,597 | + 8.59% |
| Burglary | 9,609 | 8,643 | -10% |
| Larceny/Theft | 62,309 | 40,834 | -34.46% |
| Motor Vehicle Theft | 9,092 | 10,053 | + 10.56% |
*Crime rate is calculated by dividing the number of reported crimes by the total population; the result is multiplied by 100,000.
**All data is from the 2020 Illinois Crime Stats Report**
Chicago vs The Most Dangerous Cities In The United States
Here's a list of the top 10 most dangerous cities in the United States ranked by violent crime rate. It can give you some perspective on Chicago's violent crime rate, which is 1,098.86
Chicago's violent crime rate is 2.2 times less than Memphis, the most dangerous city on the list.
| | | | |
| --- | --- | --- | --- |
| City | Population | Number of violent crimes in 2020 | Rate per 100,000 people |
| Memphis | 633,104 | 15,310 | 2,418.24 |
| Detroit | 639,111 | 14,370 | 2,248.44 |
| Baltimore | 2,707,064 | 9,273 | 2,027.01 |
| St. Louis | 301,578 | 6,017 | 1,995.17 |
| Little Rock | 202,591 | 3,657 | 1,805.11 |
| South Bend | 103,453 | 1,765 | 1,706.09 |
| Cleveland | 372,624 | 6,281 | 1,685.61 |
| Milwaukee | 577,222 | 9,407 | 1,629.70 |
| Kansas City | 508,090 | 7,919 | 1,558.58 |
| Lansing | 112,644 | 1,699 | 1,508.29 |
| Springfield | 169,176 | 2,545 | 1,504.35 |
*All data is from the 2019 FBI Crime Stats Report**
The Most Dangerous Neighborhoods in Chicago
Here's a map showing you the worst neighborhoods in Chicago according to how many homicides were reported in the area in 2020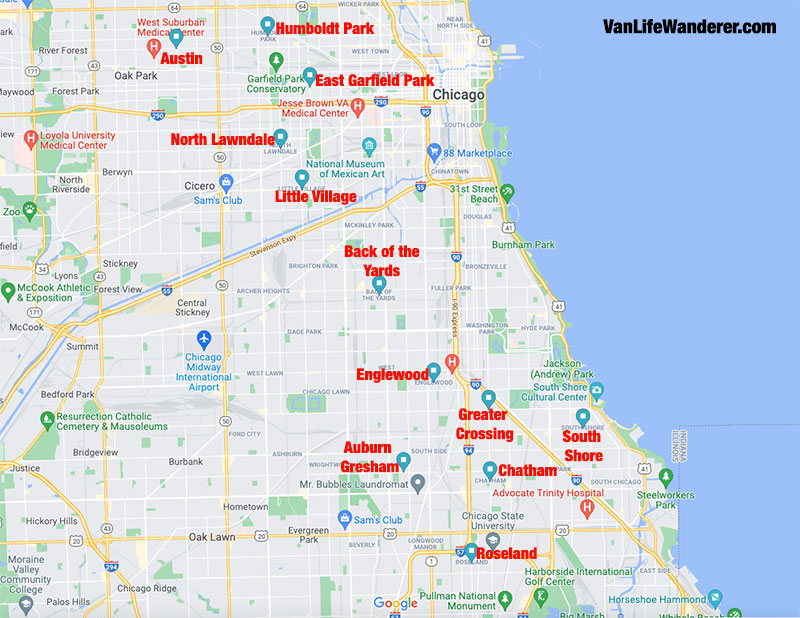 Austin is located on the westside of Chicago and is the worst neighborhood in the city in terms of crime. There were 78 reported homicides in Austin in 2020.
Englewood is located in Chicago's southside and is the second worst neighborhood in Austin. There were 71 reported homicides in Englewood in 2020.
Garfield Park is located on the westside of Chicago. Residents mention Garfield Park is one of the most dangerous parts of Chicago and that they wouldn't even drive through there. There were 62 reported homicides in Garfield Park in 2020.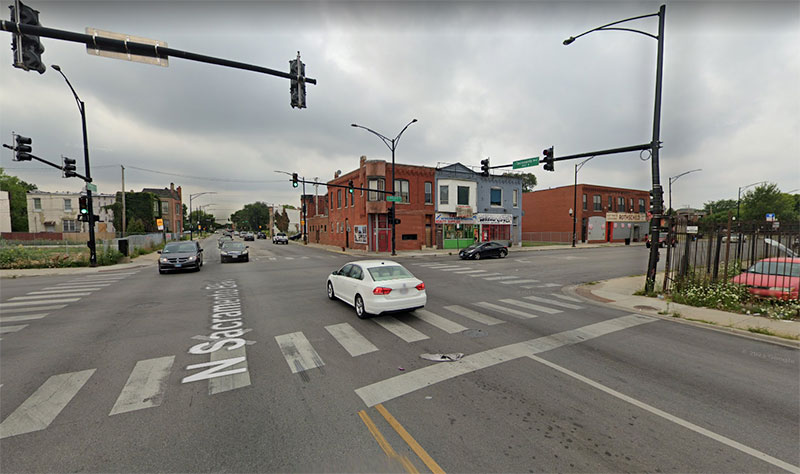 Humboldt Park is located on the westside of Chicago. There were 40 reported homicides in Humboldt Park in 2020.
South Shore is located on the southside of Chicago. There were 40 reported homicides in South Shore in 2020.
North Lawndale is located on the westside of Chicago. There were 38 reported homicides in North Lawndale in 2020.
Auburn Gresham is located on the southside of Chicago. There were 33 reported homicides in Auburn Gresham in 2020.
Chatham is located on the southside of Chicago. There were 31 reported homicides in Chatham in 2020.
Little Village is located on the south-west side of Chicago. There were 25 reported homicides in Little Village in 2020.
Grand Crossing is located on the southside of Chicago. There were 24 reported homicides in Grand Crossing in 2020.
Roseland is located on the southside of Chicago. There were 23 reported homicides in Roseland in 2020.
Is Downtown Chicago safe?
Downtown Chicago is a generally safe area to visit and the general consensus among residents is that downtown is safe.
Here are what some residents of Downtown say about the area:
"Chicago has one of the safest downtowns in the United States."
"Downtown is really nice and pretty and safe."
"Downtown Chicago is very tourist friendly and safe. It's not a war zone, there's just gang violence in specific parts and Downtown isn't one of them."
"Downtown is one of the safer areas of the city."
"Downtown Chicago is perfectly safe for tourists. The downtown area is a business centric area and after everyone leaves for work, it gets pretty boring. Unless there is an event or a concert, there isn't really much reason to be here. "
Driving tour of Downtown Chicago:
Is the public transportation of Chicago safe?
The CTA is relatively safe to take during peak daylight hours, especially during the commuting hours. We do not recommend you take the CTA at night, as it can get sketchy. We recommend that you take an Uber or hail a taxi to get to your destination at night.
We also recommend that you keep situational awareness at all times, which means not burying your head in your phone and not having your headphones on.
Here are what some residents of Chicago think about the CTA:
"Late at night or late morning/early afternoon can feel sketchy when there aren't many people riding it."
"At night I do not ever relax on the CTA. Late-night rides call for 100% watchfulness. And I do not like waiting for trains on deserted un-patrolled below-ground platforms where you are basically at the whim of whomever.
"I feel safe riding the CTA during times where everyone is going to work and leaving work to go home. At night NO!"
"I usually get on the CTA between 9am and 5pm and have never felt unsafe between those hours."
"After 10pm it is a different story. It's almost like it's a completely different train/system. I feel weirded out waiting for the train, and often in the train."
"As a woman, I've had a few scary uncomfortable experiences and so I avoid taking it at night."
"I actively avoid it at night."
What do residents of Chicago say about its safety
"The northside of Chicago is a pretty good and safe place. Boys' Town is another great place, very artsy and everyone is very friendly."
" If you visiting the city, just stay downtown and by the loop and the north side and you shouldn't encounter too many problems."
"As long as you have some street smarts and know how to handle yourself in the city, you will be alright."
"Chicago is not Kabul or Mogadishu, like it's being portrayed in the media. There are violent areas, but those areas you probably wouldn't want to visit anyway."
"Don't get spooked by the headlines, they are a lot worse than reality."
"I've been here 10 years and generally it's ok, but I've been in some sketchy situations, including a couple on the L. As long as you are careful and watch your back you should be fine, but you need to be cautious of your surroundings."
"If you are not selling drugs or gang-banging you will be safe even in the worst hoods like Austin or Englewood."
"Despite what the conservative media will tell you, Chicago is NOT the wild west, where every street has drive-by shootouts all day and night. Chicago is a VERY big city and just like in any city, it has rich areas, it has poor areas. It has areas that are better, and some that are worse."
"I feel 60% safe in Chicago. It used to be up at 90s but I got mugged at gunpoint and it seems like people have gotten crazier since the pandemic started."
"I have been robbed at knife point and car jacked at gun point in Chicago. I still feel it is safe. My girlfriend on the other hand, she doesn't feel safe at all."
"In general the entire city is fine during the daytime. At night, there's some areas you really don't want to be walking around at night if you're not a local."
"The homicides and shootings you hear about are in very small concentrated crime infested areas of the city."
"Stay out of the South side and the west side and you're golden!"
" Stay out of Englewood and Austin, don't interact with gang or deal drugs and you will minimize your risk of being a victim in Chicago."
"The dangerous places are in a very few and easily avoidable areas that no one would ever need to go to. The important, downtown and touristy areas of Chicago are very nice and very safe."
Is Chicago safe at night?
Chicago can be safe at night. However we recommend that you DO NOT visit certain parts of the city at night, specifically; the west and southside of Chicago.
We also recommend that you DO NOT use public transportation at night and you should instead take an Uber or get a taxi.
Is it safe to visit alone?
Chicago can be a safe place to visit alone if you learn the layout of the city and know exactly which parts of the city to avoid.
Tips to stay safe in Chicago
Learn the city! Some of the nicest areas in this city are close to some shady areas. Some signs to look for when you are getting into a sketchy area; abandoned buildings, metal bars on windows, liquor stores, cash checking places, etc.
Pay attention to your surroundings when walking. Don't scroll through your phone while listening to loud music. Gaining some situational awareness goes far.
Don't explore an unfamiliar area at night.
Never feel like you owe anyone an explanation for your personal comfort. If someone is making you feel uncomfortable, change trains, ask for help, tell him to fu*k off.
When driving, don't roll your window down when a stranger asks you to. Only do so for a police officer.
As a woman. Don't walk alone at night anywhere while intoxicated. Go in a group, grab a cab, or get an uber.
Don't talk on the phone, particularly if it's late at night and you are by yourself.
Don't take out your wallet out if you aren't in a store paying for something.
Never walk through an alley, especially at night.
Never, ever give money to panhandlers.
No headphones in public.
Dont make eye contact with anyone going from train to train during stops.
ANYONE asking for money is a scammer. "My basketball team needs transportation money for a tournament in Kenosha" B.S!
Do not accept an open drink from anybody, except the bartender.
Always look like you know where you are going. Walk with purpose and do not reply to people who approach you for money.
Don't get into a train car that is empty if you can help it.
Don't advertise of flaunt! Don't wear your Rolex or carry your Gucci purse.
Mind your own business. If things look like they are getting rough or testy, leave immediately.
If you are getting robbed accept it and don't be a hero. Hand over what they want. Your life is not worth your wallet or cellphone.
Is Chicago Safe To Visit?
If you look at the crime stats, Chicago is not a safe place to visit. The number of homicides and shootings is unnerving and the other metrics don't instill confidence. However if you talk to the residents of the city, they say their city is safe and the violence is only concentrated in certain sections of the city and in places where you probably aren't going to visit anyways.
While there are no guarantees in life, you can mitigate the chance of yourself becoming a victim if you learn the layout of the city. You should know which areas to avoid, the soutside and the westside and specific neighborhoods; Austin, Englewood, Garfield Park, Humboldt Park, South Shore, North Lawndale, Auburn Gresham, Chatham, Little Village, Grand Crossing, Roseland, Chicago Lawn, West Pullman, Near Westside.
Other Cities You Might Be Interested In: